If you are one of millions of viewers who have been swept away with the parlor room drama and torrid romances of Downton Abbey, you might be suffering from withdrawal after the dramatic end to last season. Unfortunately, the fourth season will not premiere stateside until January, which leaves fans with six months worth of Sunday nights without the Crawleys. Surviving until the winter might just be easier with these Downton-inspired getaways:
For a luxurious vacation, Rocco Forte's Brown's Hotel is already an ideal option, but for those feeling nostalgic, it is even better. In celebration of its 175th anniversary, the hotel is offering a Highclere Castle Vintage British Summer Day Package, which gives guests the opportunity to venture to Highclere Castle, the primary filming location of Downton Abbey, in their choice of stylish vintage automobile from Lords Cars. After spending the day basking in the gorgeous estate and grounds, guests will return to the hotel and enjoy a "Timeless" cocktail at the Donovan Bar, and then perhaps curl up with their free copy of Lady Carnarvon's Lady Almina and the Real Downton Abbey. This package is available from Sunday to Thursday between July 14th and September 12th, 2013, with rates starting at $1100 per night for two people.
Another option at Brown's is the Vintage British Summer Suite Package, which includes:
-4 nights accommodation in a suite
-Complimentary one-way airport transfer in a vintage Daimler Limousine
-Daily breakfast for two at HIX Mayfair
This is available between July 15th and September 8th, 2013, with rooms starting at $770 per night for two people in a Junior Suite.
If interested in seeing the actual village of Downton, take a day trip to Bampton in Oxfordshire, just two hours from London. As a result of its newfound fame, the town has a website with a thorough account of its unique history and culture. Spending a day walking through the streets where Lady Sybil got hurt during a political rally or seeing Matthew and Isobel's cottage is sure to please any Downton fan, and the town itself has a number of events around which it might be fun to plan a visit. Most notable of these is the Gardening Club Annual Show in August, reminiscent of the competitions seen on Downton Abbey (will Lady Violet win again this year?).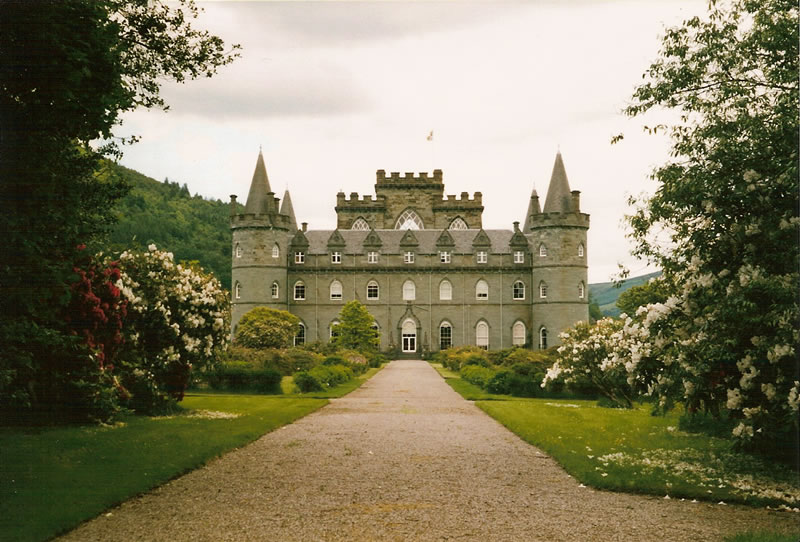 For those willing to travel a little further north in the United Kingdom, Scotland's Inveraray Castle is not to be missed. Fans will recognize it as the home of Lord Grantham's cousin, Shrimpie, and the site of the season three finale. The manor is located in Argyll, about sixty miles northwest of Glasgow, and is already a great attraction because of its 60,000-acre span of green and gardens. During the warmer months, guests pay $15.50 for access to the grounds and castle.
Much, much closer to home is Lady Mendl's Tea Salon at The Inn at Irving Place, located in one of the most picturesque corners of Manhattan. The lush, extravagant interiors will transport visitors to the time of Downton Abbey and further back into the 1800s. For $40, guests can enjoy a five-course afternoon tea menu comprised of finger sandwiches and scones with clotted cream and jams, and choose from an array of fine teas. Reservations are required, so call ahead!
For a day trip, Lyndhurst Mansion in Tarrytown cannot be beat. After a scenic forty-five minute ride up the Hudson on Metro-North, enjoy the Victorian Gothic architecture and interiors of Lyndhurst. The sixty-seven acres surrounding the mansion are great for picnicking or walking along the river, and it is easy to understand why Jay Gould, one of the most hated men during his lifetime, chose it as his retreat from society. Much like Lady Cora, Gould's daughter, Anna, took her wealth to Europe and married a European aristocrat (or two, if you want to get specific). Entrance to the grounds is $12 and tours of the mansion take place hourly for $14.
Happy travels!